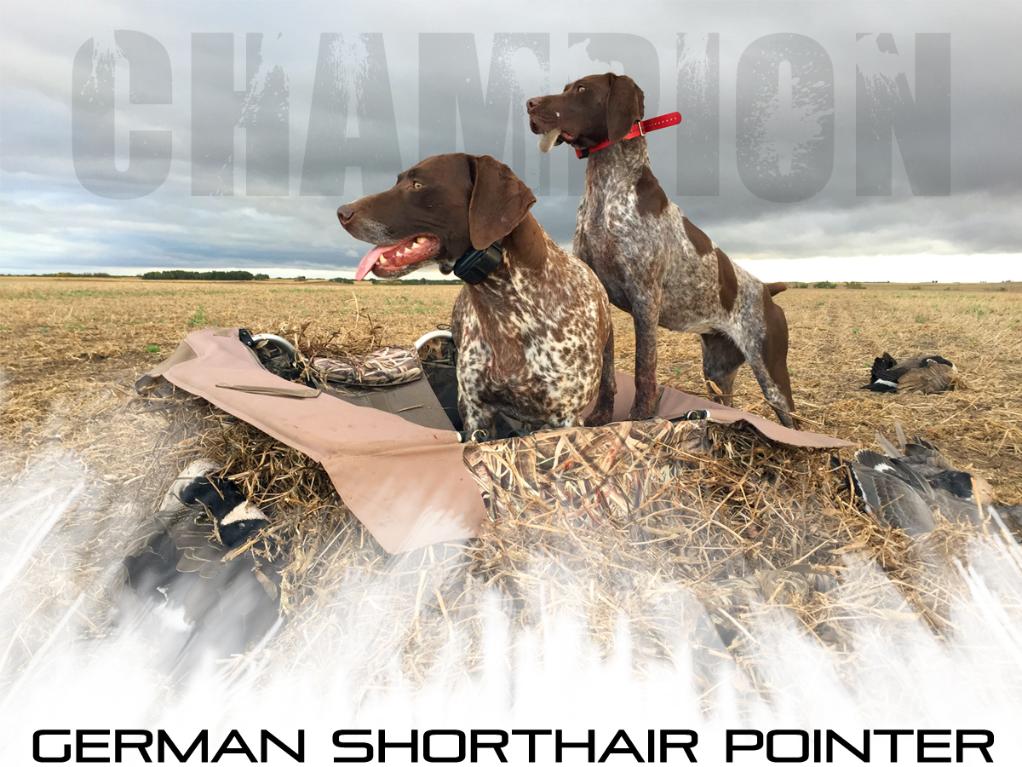 We take great pride in our GSP line of dogs. The golden rule behind throwing consistantly phenominal litters of german shorthair pointer puppies is to only ever breed the best with the best. And that is our commitment and passion; to produce the very best we can in truly great sporting dogs.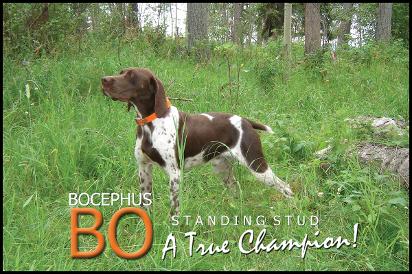 BO
'ADVENTURE BOUND BLUES OF BOCEPHUS'
REGISTERED NAVHDA, AKC and CKC
Bo is our standing stud dog and a major strength of the Champion lineage. Big head, deep chest and powerfully built, Bo has it all! Strong, confident nature with an easy going attitude Bo loves to please and lives to hunt. Strong nose and a long stride Bo is a workhorse in the field with amazing versatility. Bo is truly a pleasure to own and work with, sporting an incredible pedigree and living up to the highest of expectations.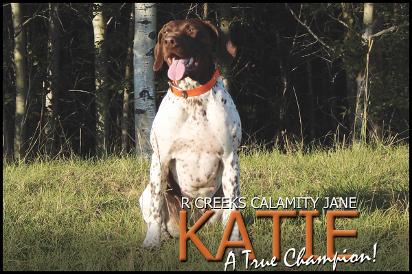 KATIE
'RCREEKS CALAMITY JANE'
REGISTERED NAVHDA, AKC and CKC
Katie is an outstanding female and a major strength of the Champion lineage. Katie hails from strong bloodlines and proven breeding. Katie is a firecracker type female with limitless energy and hunt drive. Extremely well 'put together' one look at this female tells the story of incredible huntress and field companion. Coupled with this is a deep sweetness in disposition and ability to turn down that field energy to match her environment. An absolute pleasure to own, Katie has it all!
STORM
'SPORTING DOGS PRAIRIE STORM'
REGISTERED NAVHDA, CKC
Storm is 2nd generation and direct decendant of our original incredible male 'Big Shooter'. Storm is a true friend with a very strong loyal nature. As sweet a gsp as one could hope for, Storm often earns the coveted 'shotgun' spot in the truck. True to her lineage, Storm sports an insatiable appetite for birds and hunting, with a strong point and equal retrieve. Storm is an excellent mother producing amazing litters.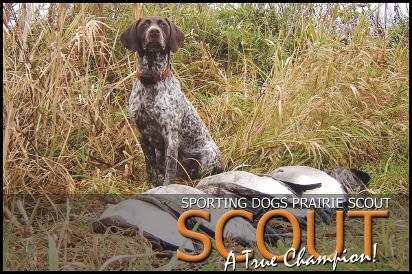 SCOUT
'SPORTING DOGS PRAIRIE SCOUT'
REGISTERED NAVHDA, CKC
Scout is big strong female with an incredible hunt drive and amazing versatility. Scout has proven herself on everything from waterfowl, field and water, to upland birds to heavy cover for rabbits. A true all round dog, Scout lives to hunt and is very reliable, both her nose and her retrieve. Scout has a wonderful temperament, hunts well alone or with company, and displays a strong dominant confidant nature. A phenominal field dog and a pleasure to own.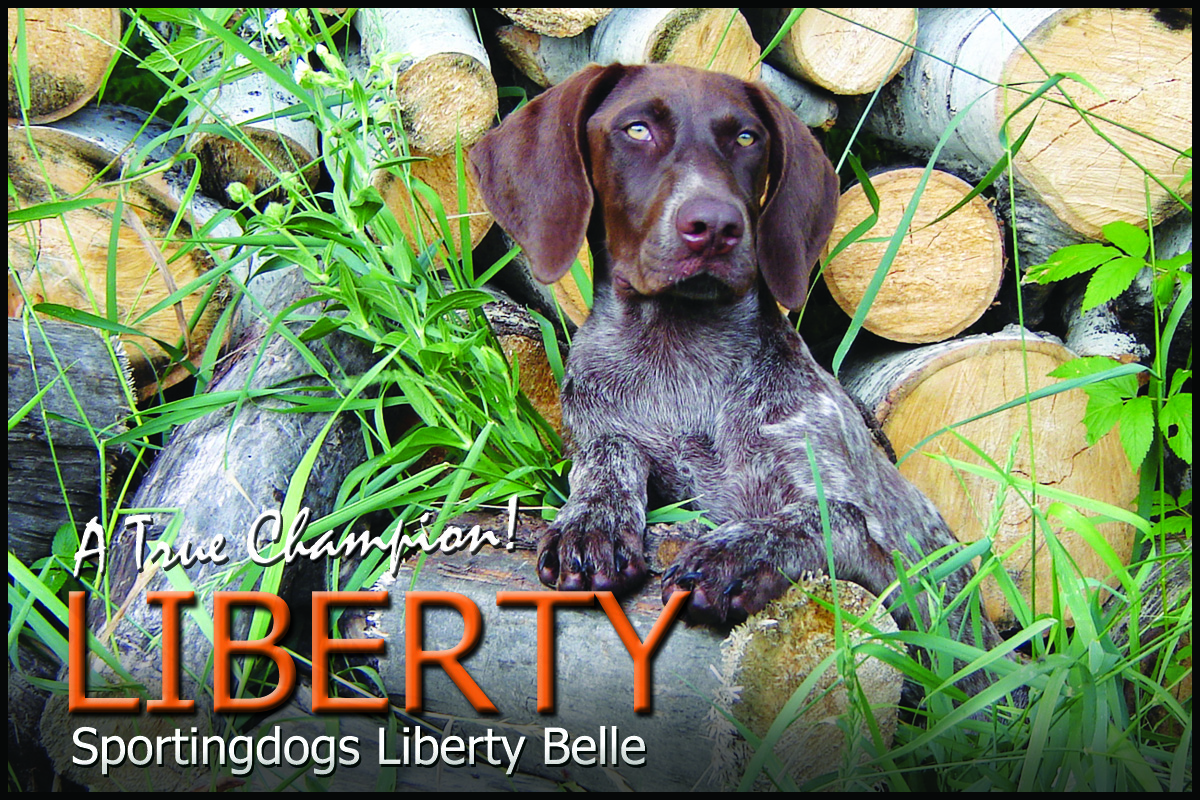 LIBERTY
'SPORTINGDOGS LIBERTY BELLE'
REGISTERED NAVHDA, AKC
Our third generation pup, and she has it all, looks, brains, and tons of natural ability. I am amazed over and over again as I spend time with her how quickly she picks up on things, it's as if she has done them before and knows just what to do. What a wonderful personality and as a loyal as the day is long. I can't wait to see what Liberty can do in the future.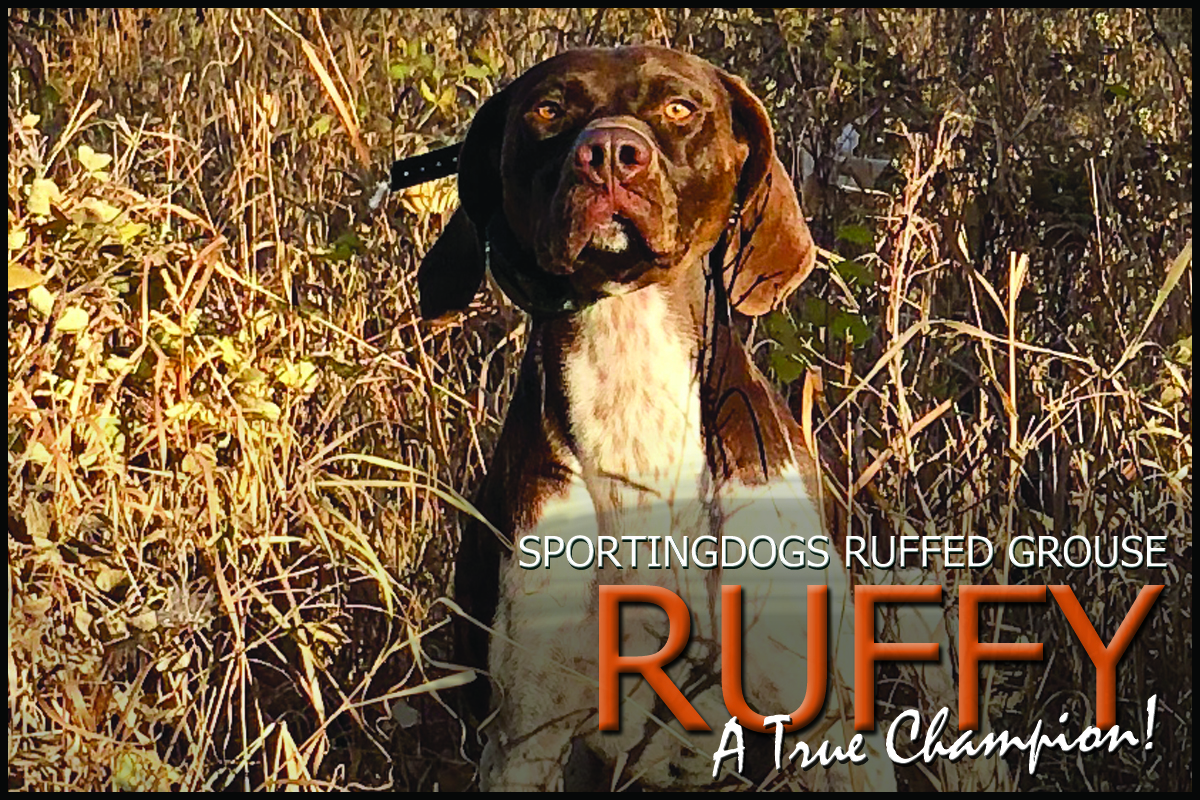 RUFFY
'SPORTINGDOGS RUFFED GROUSE'
REGISTERED NAVHDA, AKC
Ruffy is an outstanding female with very strong hunt drive and wonderful temperament. This amazing young female is tireless in the field and a confident hunter. A super sweet disposition makes Ruff an incredibly loveable dog and close friend. She is truly the 'hunter's close companion', both in the field, around the home or in the truck. Truly a pleasure to own and work with.
C H A M P I O N S P O R T I N G D O G S